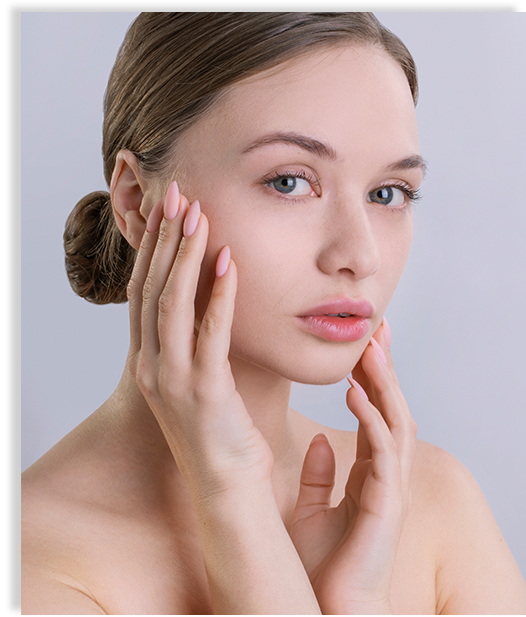 ARAVIA PROFESSIONAL
your way to excellence!
All started from sugaring
Sugar pastes were the first product that appeared under the ARAVIA brand in 2009. These were bright jars with oriental motives, since the procedure itself has Persian roots. Soon the pastes were supplemented by a line of skin care products for pre- and after depilation, and with this assortment the young Russian manufacturer begins to conquer the market of professional cosmetics. At the same time the first Aravia training center was opened.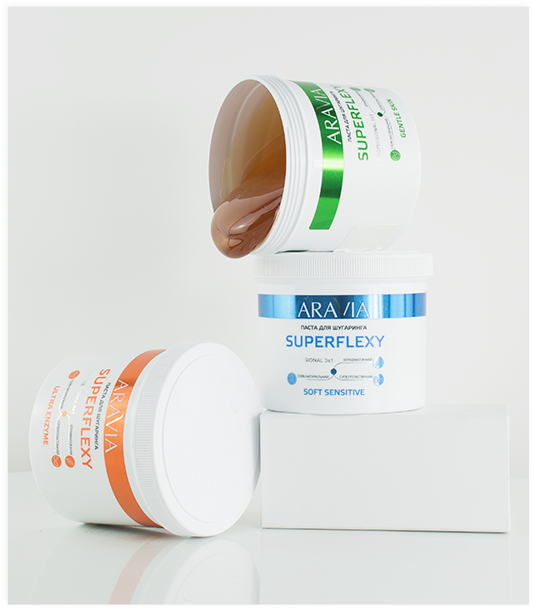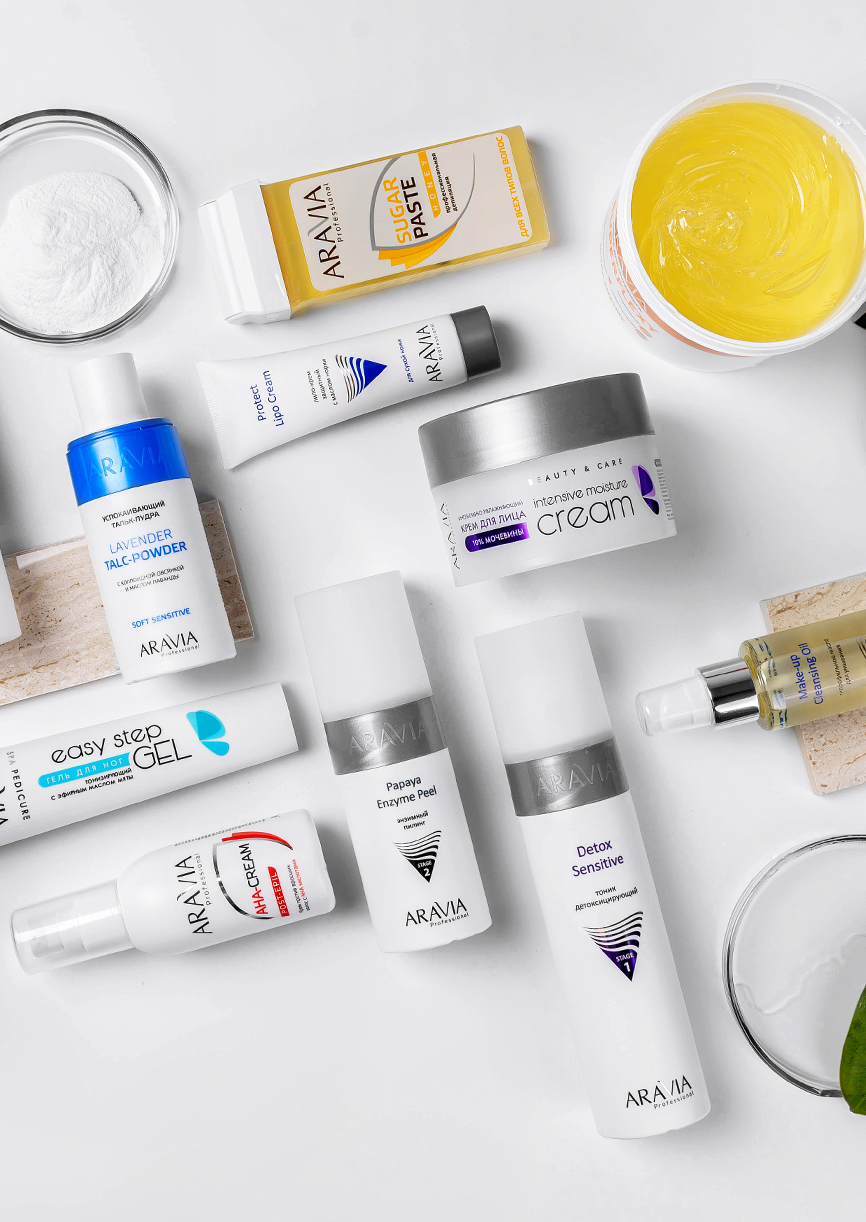 2013
RAPID DEVELOPMENT: PARAFFIN CARE, PASTES IN CARTRIDGES, BODY AND FACE CARE
In 2013, "Aravia's sugaring" became one of the most popular salon procedures. After that, a new line of skin care for hands and feet was launched. Cold paraffin care by ARAVIA Professional has become a highlight among specialists of manicure and pedicure.
2014
The company releases a great number of novelties. The first cartridge with sugar paste comes out in spring. This product has greatly simplified the work for sugaring specialists and was highly appreciated by lovers of home procedures. Meanwhile, Aravia's technicians are performing throughout Russia and the CIS countries. Numerous master classes about Aravia's products bring together beauty specialists and attract a new audience. The network of training centers and partners is growing steadily.

In the wake of the success of sugaring products, Aravia starts to conquer a new segment, professional body care. Bioactive components with ECOCERT certification from leading European laboratories become the highlight of ARAVIA Organic . Using this line of products, beauty specialists and their clients get rid of the appearances of cellulite, reduce swelling, make the skin smooth and elastic, and slow down the aging process.
2015
The year when ARAVIA cosmetics acquire popularity in nail bars. ARAVIA Professional line for hands and feet care are the complex approach, fast results and the power of nature guarding your beauty. The products enriched with natural oils and extracts turn the usual manicure or pedicure procedure into a full-fledged SPA ritual for relaxation and self-care.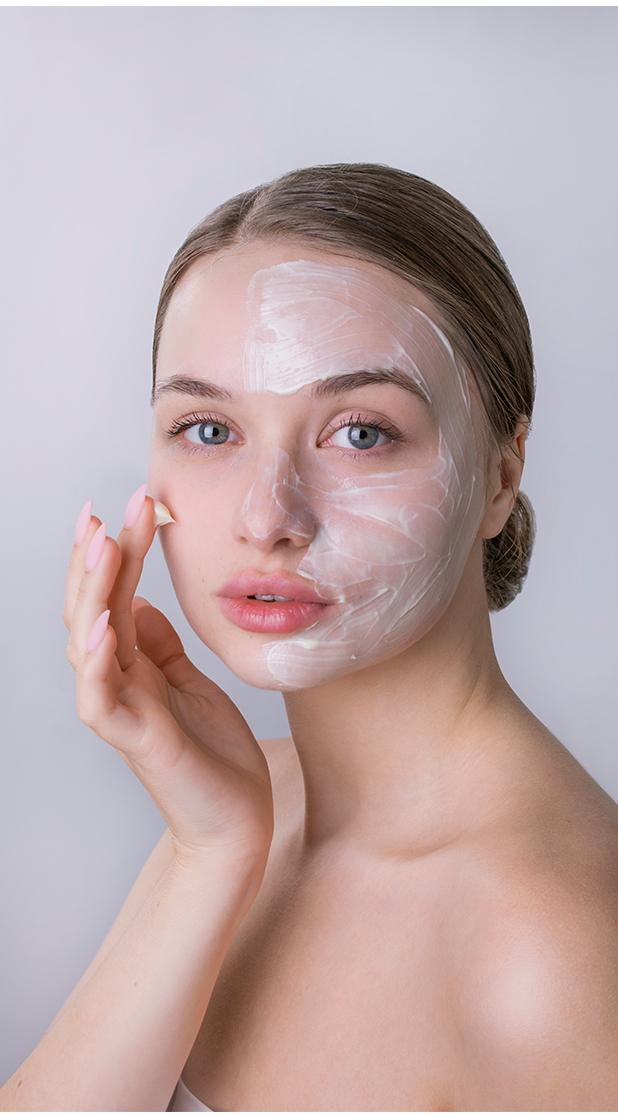 2016
An important year in the history of the ARAVIA Professional brand. The first professional facial care products were launched. The line was destined for success; cosmetologists liked the bright formulas, the attractive prices and the excellent compatibility of all the products among themselves. Moreover, Aravia created a range of specific treatments for every type of skin; this made possible to offer individual approach for every client. At the same time, a set of carboxytherapy, which is one of the indispensable procedures for the fresh and radiance skin, was launched on the market. ARAVIA Professional products have become a breakthrough on the professional cosmetics market, making esthetic treatments affordable for every woman.
2019
Fortifying of positions and further growth:
only innovations and regular care
156 thousand of beauty salons and cosmetologists choose ARAVIA Professional for face and body care, depilation, manicure and pedicure. There are 19 branded training centers in Russia and the CIS. The year has become a landmark for the company in terms of the number of breakthrough novelties. The company releases a revolutionary SUPERFLEXY line for sugaring according to skin type, and the innovative Carbonic Peel Program without laser. Lines for home and intercourse facial care are growing and developing.
2020
One of the hardest in the life of every company. However, Aravia was not only able to please customers with new products in different lines, but also started a new milestone in company's growth, which is professional hair and scalp care, and also released series of antiseptics, following the call of the market.
Aravia today is more than cosmetics
We continue to keep our finger on the pulse of the beauty industry and release demanded, bright and comfortable novelties. Buying ARAVIA Professional products, you can be sure that you will get quick and noticeable results in any area:
SPA sugaring and skin care after depilation
Hands and feet skin care, paraffin care
Professional facial skin care
Body-sculpting treatments ARAVIA Organic
Hair and scalp care
Our clients are not just consumers for us, but the most demanding critics.
Therefore, we are attentive to your feedback and suggestions.
Aravia Professional, your way to excellence!